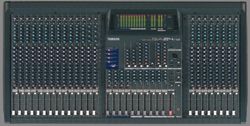 Yamaha GA24/12 Mixing Console
Rental Price: $175/Day $500/Wk

20 mono input channels, each with: 48v phantom power, gain, pad, Ø, HPF, four band eq (2 mid sweeps), eq bypass, pan, channel on/off, PFL, 100mm fader. 2 stereo line input channels, each with: gain, HPF, four band eq, eq bypass, pan, channel on/off, PFL, 100mm fader. The aux and group routing is flexible. There are at least six auxes (switchable pre/post in pairs). Four Diversity buses can be individually switched to be either sub groups or auxes making a maximum 10 auxes plus LR. (Or 6 auxes + 4 sub groups or 7+3 or 8+2 or 9+1). Each of the 10 group/aux buses has a three band eq (sweep mid) making it ideal for monitor mixing or various FOH applications. The master section has 4 aux returns, tape input, two matrix outputs, talkback, control room output and comprehensive LED meterbridge for LR, Matrix/PFL and all auxes/groups.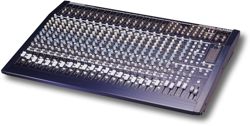 Behringer Eurodesk MX2442A
Rental Price: $50/Day $150/Wk

The MX2442A features the same specs and functions as the MX3282A, but saves a lot of space when 20 channels (16 mono, 4 stereo), 4 subgroups and 6 aux sends will fill the bill. Two of its aux sends are pre/post switchable; the other four share two pots switchable in pairs and are fixed post-fader. Two stereo aux returns are supplied. Like its big brother, the MX2442A also comes with an external, rack-mountable power supply for enormous headroom and clean audio with a minimum of interference.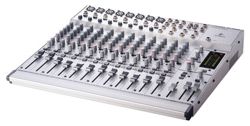 Behringer Eurorack 2004A
Rental Price: $25/Day $75/Wk

With a total of 20 line inputs plus a 2-track input, unusual flexibility and professional audio quality, the MX2004A has become a favorite for a wide variety of applications. All eight mono channels feature our INVISIBLE MIC PREAMPS, balanced line inputs and inserts. The four stereo channels have dual 1 /4 " connectors. All channels are equipped with first-class equalizers, high-quality faders, PFL/solo-in-place and mute functions. Additional features include two aux sends and two stereo returns, an extra stereo bus plus extensive monitoring and connection options.